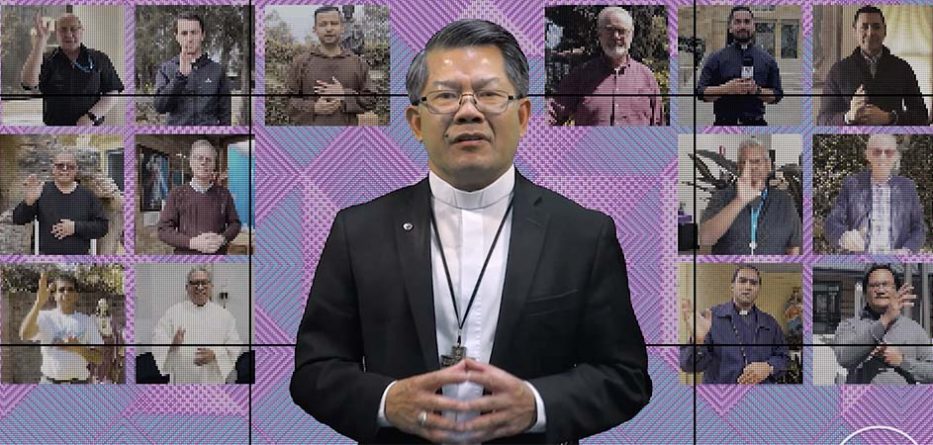 Bishop Vincent Long OFM Conv, Bishop of Parramatta, and several parish priest across the Diocese of Parramatta bless Year 12 students during the CYP LIFTED Livestream special. Image: Diocese of Parramatta.
Virtual cheers and wishes flowed on Sunday night as Bishop Vincent Long, IFM Conv, Bishop of Parramatta provided a special online blessing for Year 12 students across Western Sydney and the Blue Mountains ahead of their HSC exams.
Bishop Vincent encouraged members of the faithful in the Diocese of Parramatta to pray for the students of "Generation Hope" during the LIFTED Livestream, hosted by Catholic Youth Parramatta, and broadcast through Facebook on Sunday night.
---
Short on time?
Here's the list of what happened on the HSC Lifted Special – just scroll through the replay video to find the part you're after.
1:35 – Opening with the Hosts featuring James Camden and Qwayne Guevara
3:32 – Your Grace is Enough featuring Gen Lee and Nathan Fernandes
7:18 – Messages of support and best wishes from Parish Priests across the Diocese of Parramatta
11:13 – Scripture with Rosie Drum MGL
12:32 – Messages of support and some study advice from Year 6 students from Catholic Education Diocese of Parramatta
15:25 – Prayers of Intercession led by current Year 12 students from Catholic Education Diocese of Parramatta
16:58 – Message from Bishop Vincent to Year 12 – Generation Hope
18:35 – Blessing from Bishop Vincent and clergy of the Diocese of Parramatta
20:16 – The Blessing featuring Gen Lee, Nathan Fernandes and Year 12's.
---
"Your journey this year has been like nothing anyone has ever experienced," Bishop Vincent told the students.
"Generation Hope will be your legacy. You have provided us all with the will to keep going. You have truly lead the way for us all with your resilience, your persistence and your determination.
"These Christ-like characteristics, no doubt, will be attributes you carry with you throughout your life but will be most important in the coming days and weeks.
"I wish you the best of luck. All of my prayers are with you, as are those of our entire Diocesan community," Bishop Vincent said.
On Facebook, the live stream was shared by more than 120 people and organisations, including almost all Catholic secondary schools in the Diocese, giving it a reach of over 11,000 people.
Normally at this time of year, many parishes across the Diocese of Parramatta hold special Masses where parishioners can show their support for HSC students and their families.
This year, in order to adhere to pandemic guidelines around social distancing and safety, blessings, prayers and wishes were delivered virtually – although no less heartfelt – throughout the event.
As well as receiving a blessing from Bishop Vincent, Year 12 students were blessed by several parish priests from across the Diocese, who gave their own words of encouragement.
Fr Vincy from The Good Shepherd Parish, Plumpton, said, "I want you to remember these words attributed to St Francis of Assisi, 'Start with what's necessary, then do what's possible, and suddenly, you're doing the impossible'. All the best."
"Do your best and let God do the rest," Fr Oliver from Mary Immaculate Parish Quakers Hill-Schofields added.
Fr Paul Roberts from Our Lady of the Way Parish, Emu Plains, explained, "Breathe in God's presence at every exam, and remember that the job of every exam is to let you feel proud of yourself and your personal best."
The live stream also featured Year 6 students giving advice to the Year 12 students, a scripture reflection, as well as prayers and messages of hope from members of the Year 12 cohort.
Worship Wednesday performers Gen Lee from St Patrick's Cathedral Parish, Parramatta, and Nathan Fernandes from Mary, Queen of the Family Parish, Blacktown provided musical accompaniment during the LIFTED special, performing Your Grace is Enough and The Blessing.
People from around the Diocese sent their well-wishes in real-time, reacting and posting comments during the event.
"Sending love and prayers and good vibes to all our young people. All the best over the coming weeks," commented one Facebook user.
"This is so beautiful I believe all the 2020 graduates would truly appreciate this support. Thank you and God bless" said another user.
During his blessing, Bishop Vincent affirmed the students in their abilities and hoped that they feel supported by God and by their entire faith community.
"Heavenly Father, we bring before you our HSC students. Give them the gifts of wisdom, right judgement, knowledge and courage. Bless them with calm hearts and clarity of mind as they sit for their exams.
"May they be affirmed in their efforts, and may they know that you are there with them.
"We pray that they will stay calm under pressure and work to the best of their ability.
"May they feel Your loving presence in their lives, now and always, and may they be strengthened by the prayerful support of us, their community in Christ.
"We ask this in the name of Jesus Christ, your Son, who lives and reigns with you and the Holy Spirit, now and forever, Amen."
The Diocese of Parramatta wishes all Year 12 students across Western Sydney and the Blue Mountains all the best for their HSC exams. Our thoughts and prayers are with you.
The LIFTED Special can now be viewed on The Well – the Diocese of Parramatta's new online platform that provides free, 'on-demand' inspiration for families, children, young people and faith communities.