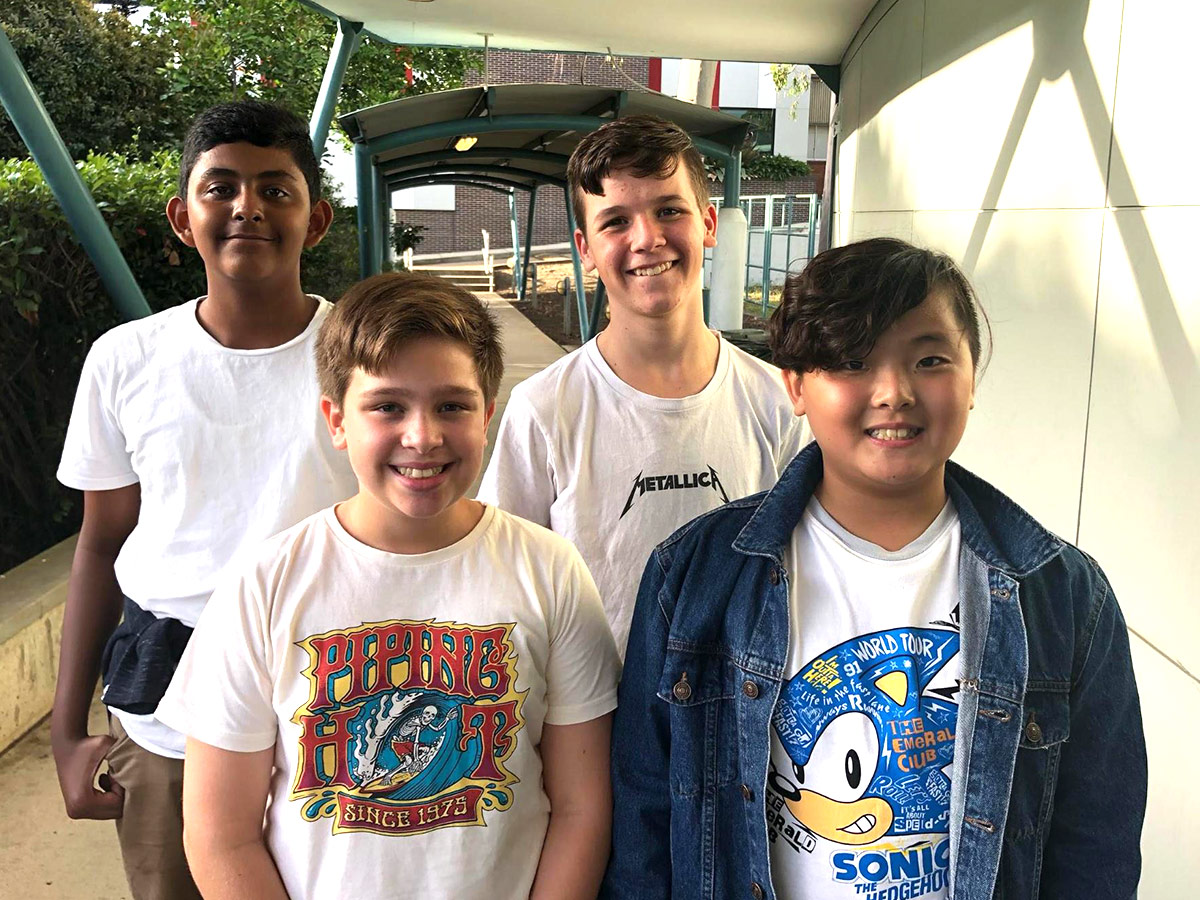 Clockwise from top left: Shujay Vijaygiri, Louis Carroll, Ian Baek, Anton Galati
Four talented drama students from Catholic Education Diocese of Parramatta's creative and performing arts program, CAPTIVATE, will star in the new Australian Theatre for Young People (ATYP) production I've Been Meaning to Ask You at the Parramatta Riverside Theatres this month.
Following a rigorous audition process, Parramatta Marist students Louis Carroll (Year 8) and Shujay Vijaygiri (Year 9), St Patrick's Marist College Dundas Year 8 student Anton Galati, and Year 5 student Ian Baek from St Bernadette's Primary Dundas Valley will join 11 other young performers in the groundbreaking production.
"The auditions were really daunting, especially when they got us to do some dancing," Louis Carroll said. "I had no experience with that stuff!"
I've Been Meaning to Ask You is a work full of questions, all asked by young people, where adults take a backseat as a powerful panel of 9 to 13 year olds drop some home truths…and the mic.
The Theatre will be transformed into a playground turned battleground as what you have been told, what you know to be true and what you want to believe are tested. Some of the tricky questions you might hear on the night are 'What was life like before the internet?', 'Is 50 too old to learn to surf' and 'Why do adults drink to have fun?'
"I think this performance is important to see because it's a reflection for the adults on their childhoods and a time to think about the upcoming future for the kids," Louis said.
Louis, Shujay, Anton and Ian are rehearsing several times a week, including weekends, to get ready for the production's four-day run from 17 to 20 March 2021.
What is especially exciting for the students is that they are co-collaborators in the creation of the performance, not just performers.
"It's awesome to have children involved in the writing and performing of this play because it brings together the community and also gives us some insights to the mind of the everyday adult," Louis said.
CAPTIVATE Drama Practitioner Lucinda Armour said the ongoing collaboration between CAPTIVATE and the ATYP continues to offer CEDP students outstanding creative opportunities.
"CAPTIVATE is very proud of Louis, Shujay, Anton and Ian's notable achievement," Lucinda said.
---
Tickets for I've Been Meaning to Ask You at the Parramatta Riverside Theatres from 17 to 20 March 2021 are on sale now
Find out more about the Australian Theatre for Young People
Find out more about CAPTIVATE Creative Arts in the Parramatta Diocese