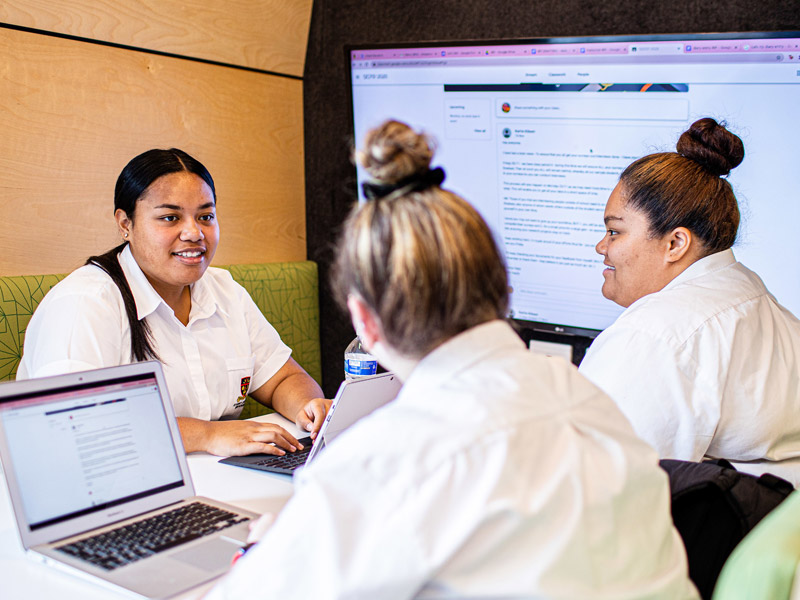 Last month, students from three Catholic Education Diocese of Parramatta (CEDP) schools presented at Instructurecon 2021, the global virtual conference for Learning Management System (LMS), Canvas.
As an enterprise LMS, Canvas provides CEDP schools with an opportunity to support student learning with the most up-to-date technology. This includes online provision of learning resources and in-built communications between students and staff through this popular platform that is used by many tertiary institutions.
Instructurecon 2021 was a fantastic opportunity to showcase the great work of CEDP schools in embedding blended learning across the Diocese, which began with the launch of School of Now in 2019. The School of Now uses Canvas as a LMS, and the product is also in place in many CEDP secondary schools.
School of Now is an innovative program that uses technology as an enabler to provide CEDP secondary students access to courses not available in their school, with Year 11 and 12 students across different schools having the opportunity to learn together from an expert teacher with specialist knowledge and experience in supporting HSC students.
As schools across Western Sydney and the Blue Mountains adapted to periods of remote learning in 2020 and 2021 as a result of the COVID-19 global pandemic, technology became even more important in ensuring the continuity of learning and maintaining connection for school communities.
Parramatta Marist High School, represented at the conference by Kimberley Parnis and Kimberley Martin, described using Canvas to stay connected during the 2020 lockdown. The school's aim was to maintain strong relationships and a sense of connectedness between staff, students and year groups during this challenging time. Harnessing the unique features of Canvas, the school was able to establish new learning experiences and create positive online spaces for connection.
Matthew Kneller and Nicole Mulford from Bede Polding College South Windsor presented on how the College began a transition from using another LMS to Canvas in 2020. Alongside a new BYOD (Bring Your Own Device) program, Canvas was seen as an ideal technology platform to maximise educational opportunities under a newly developed learning framework.
For the new CEDP school Santa Sophia Catholic College Gables, the Canvas technology complemented its Project Based Learning (PBL) approach to learning. Cristina Rubbo and David Sheil explained how establishing a consistent, high quality learning environment through an LMS enabled new staff to easily transition to the College's education approach. Through partnerships between Canvas, Cidilabs and CEDP, the school was able to build a blended learning environment tailored to delivering PBL.
David Sheil, Teaching Educator eLearning at CEDP says platforms like Canvas have added another dimension to learning and their use is definitely not limited to remote learning.
"Canvas is an LMS that gives you the opportunity to shape, lead and support students pursuing their personal best in their learning," David said. "All CEDP staff and students can access the platform and assignments, tasks and activities are integrated into the student calendar, dashboard and their preferred devices, email, tablet, phone and more."
---