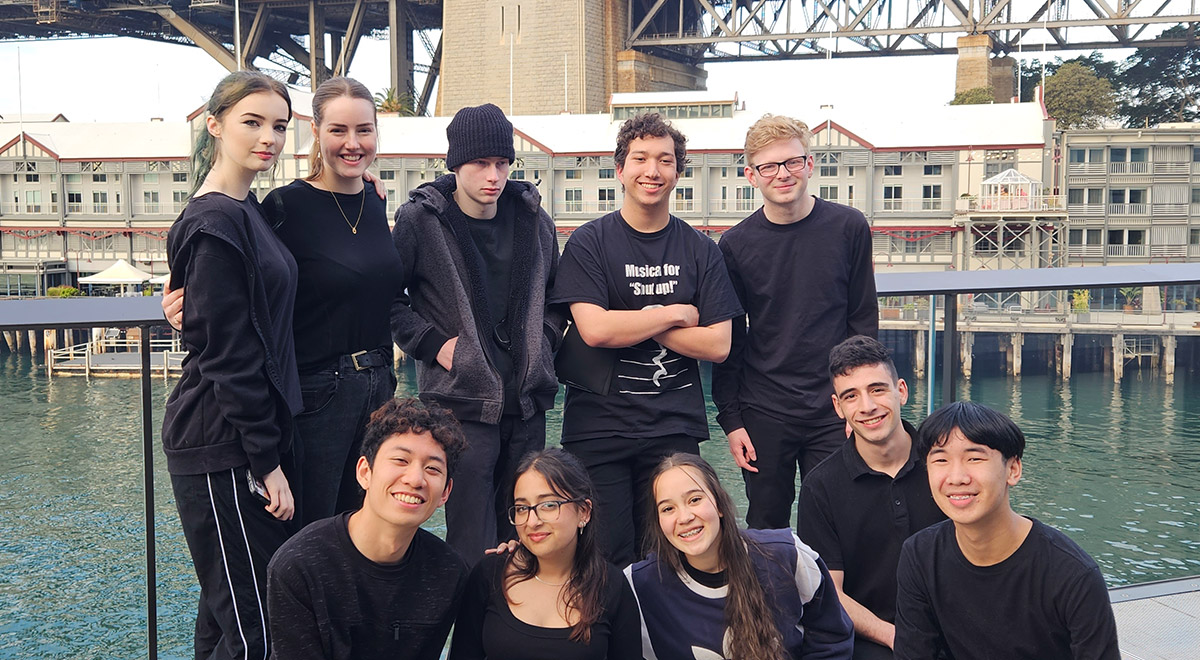 Catholic Schools Parramatta Diocese (CSPD) students in the CAPTIVATE Drama program shone brightly again at the annual Australian Theatre for Young People (ATYP) 2023 Intersection Festival earlier this month.
CAPTIVATE is the creative and performing arts program for students from Catholic schools across Western Sydney and the Blue Mountains.
Rhys Taylor, Mateo Soriano, Dominic Lim, Jean-Luc Buot de l'Epine (Parramatta Marist High School), Mia Brownlow (Catherine McAuley Westmead), Ella Montgomery-Wynn (Gilroy Catholic College Castle Hill) and Fadi Alomar (St Pauls Catholic College Greystanes) performed the final play of the evening, the World Premier of Michelle Gould's "Drag'na Dhuul", in front of a cheering capacity audience at the Rebel Theatre.
Each year, the Intersection Festival brings together schools and youth arts organisations from across Sydney to perform the 10 winning scripts of the 2022 National Writers Studio. Emerging young writers submit their short plays for assessment and work closely over months with professional mentors, with their final drafts performed for a live audience at this special event.
CAPTIVATE teachers Lucinda Armour and Tim Martin have the privilege of being on the finalist script selection panel.
Senior members of the CAPTIVATE After School Drama Ensemble rehearsed two of the finalist scripts over a series of weeks, submitting these dynamic performances for consideration. Each participating arts organisation has one performance chosen for the festival and CAPTIVATE's was "Drag'na Dhuul" - a big night of Dungeons and Dragons where the battle is played out in more ways than one!
"Our students love the characters, themes and situations these young writers create, and the unique perspective it brings to their own dramatic performances," Tim said.
"It is a wonderful opportunity to see the words and voice of a generation in action. Each year our talented actors grow and shine on The Rebel Theatre stage and we are unspeakably proud of them."
Joining the cast on the night were CAPTIVATE students Aneisa Kalra, Madeline Toth (Catherine McAuley Westmead) and Aleksander Waesch (St Patrick's Marist College Dundas) who acted as MCs for the event. They all did a fantastic job, especially with a range of last-minute changes which included picking up chicken feathers and welcoming all the winning writers onto the stage at the finale, presenting them with a published copy of their scripts.
"The Intersection Festival is yet another great opportunity for our students to experience all the ATYP has to offer and work with students, writers and artists in this amazing theatre - right in the shadow of the Harbour Bridge," Lucinda said.
"We very much look forward to the 2024 Festival!"
---
Find out more about the Australian Theatre for Young People (ATYP)
Learn about CAPTIVATE