Team: Yr 8 Basketball Rd 7 - Coach - Ms Northey
This week in round 7 of the MCS basketball competition we took on St Pauls Greystanes. In this game we were determined to achieve three wins in a row. In the opening minutes of the match our defense was incredible as St Pauls didn't managed to score until 5 minutes left in the first half. Our offense was also very good as we had great ball movement to create open looks at the basket. As a result of our great defense and offence we managed to win 34-10. Special mentions to Cooper for scoring 13 points and Jerico playing in his first MCS basketball game of the season.
Payer of the match: Cooper Barlow
Team: B Grade Basketball Rd 7 - Coach - Mr Del Valle
The B Grade team faced St Paul's Greystanes and were hoping to emulate their Round 6 efforts against St John Paul II, but it was not to be. With the starting five missing Sean Diomampo and John Solivet both away, Nathan Haber and Diab Sukkar were selected to step up to the line. They contributed valuable defensive and offensive plays when it mattered. They were joined by Joel Nohra, Aryaman Bhosle and John Sayoda. While the B Grade team were down by 5 points 13-8 at the end of the second half, John Elomina, Dencel Vargas and Justin Cruz were rotated throughout to try and stem the rampaging St Paul's team. John Sayoda gave it his best to competitively move the ball, but unfortunately fouled out early in the second half. Joel Nohra encouraged the team to lift and this stint lasted well into the second half. St Paul's responded in a big way when their players made valuable driving lay-ups or made 3-point shots. Before the game entered the last seven minutes, St Paul's cemented their lead and didn't look back.

Player of the Match - Aryaman Bhosle.

Photo- Aryaman Bhosle and Joel Nohra working together in their defensive rotation against a St Paul's player.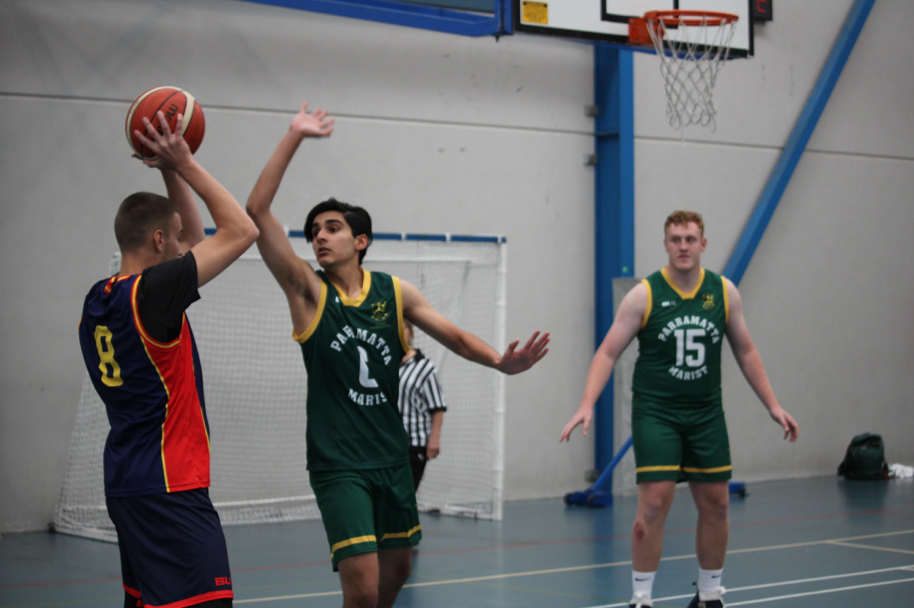 Team: A Grade Basketball Rd 7 - Coach - Mr Hanna
A game that we were not too prepared for thinking we had the bye from St.Pauls submitting an early forfeit weeks ago and finding out a few days before that we are playing again. Either way the boys were excited and so we tried a new approach with an intense man-to-man defense which paid off in the long run pressuring St.Pauls to take low percentage shots once we fatigued them and changed back to zone defence.
We kept the game at our pace and control and outscored St.Pauls by 20 in the second half to come away with a comfortable win.
A couple of special mentions to James Diaz with his hot start, Shyam Maddi grabbing 6 from 6 on the field and Ruvall Estacio with his 'Ben Simmons' like performance with 8 Assists, 8 Steals and 8 Points. But our player of the game was Liam Richards with his 6 rebounds and 24 points shooting 8 from 11.

58-35 Win over St.Pauls
Payer of the match: Liam Richards
Team: Yr 8 Cricket Rd 5 - Coach - Mr Houseman
Games cancelled due to weather
Team: Yr 10 Cricket Rd 5 - Coach - Mr DeSouza
Games cancelled due to weather
Team: A Grade Cricket Rd 2 - Coach - Mr Fernando
Games cancelled due to weather