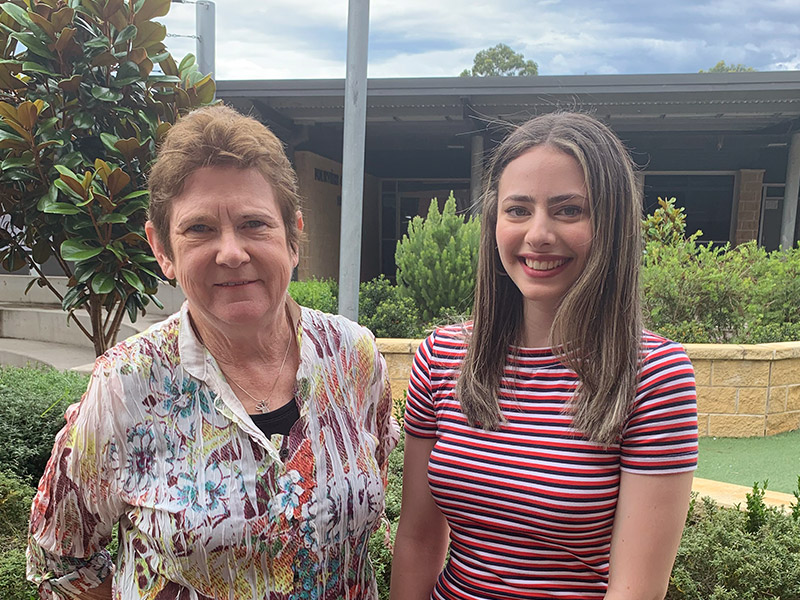 Cerdon College Merrylands student Paula Kahwajy, who topped the Drama course
Following on from the challenge of completing their studies during the COVID-19 crisis, Catholic Education Diocese of Parramatta students have topped the state in three HSC subjects. Students' persistence under difficult circumstances produced strong results at local Catholic schools across Western Sydney and the Blue Mountains.
Catholic Education Diocese of Parramatta Executive Director Greg Whitby particularly wants to celebrate the resilience and dedication of the Class of 2020."I'm so proud of the Class of 2020," Greg said. "The grit and guts they've demonstrated under very difficult circumstances have been extraordinary.
"I particularly want to celebrate the dedication and determination of our three students who came 'First in Course'. In acknowledging these students, we recognise the achievements of the many and the many personal bests too," Greg said.
In a year filled with Drama, Cerdon College Merrylands student Paula Kahwajy topped the course! Paula's love of Drama began when she chose it as an elective in Year 9. "I loved it straight away so when it came to choosing subjects for Year 11 an 12, I thought - why not!"
Cerdon College Drama teacher Samantha Murphy said she was so proud of Paula. "She's amazing. She has worked so hard in what has been a very difficult year. Her piece was incredibly powerful."
Paula said that what she found most challenging was preparing her performance piece, a monologue adaptation from George Bernard Shaw's Joan of Arc, during COVID-19 lockdown. 'I would send videos of my rehearsals to my teacher who gave me fantastic feedback. I missed not being able to perform in front of people but eventually I got used to working this way."
Paula has been now been nominated to perform at 'On Stage', which recognises the most outstanding HSC performances.
Principal Trish Baker said that she was very proud of Paula, and that the young actor's depiction of Joan of Arc was immensely powerful.
"All of us at Cerdon College were thrilled to hear the news about Paula's achievement," Trish said. "Paula's commitment to the craft of acting and to her studies deserve a standing ovation."
Parramatta Marist High School student Dean Jacobson completed Studies in Religion I as part of an accelerated learning program for Year 11 students at the school and was pleasantly surprised to come first in the state for the subject after a really challenging exam paper.
"This was the favourite subject I did all year," Dean said. "I think when you have a passion for something you will do well."
Dean also felt lucky to be at a school with a switched-on approach to using technology in learning, which meant students were well-prepared for the additional challenges presented by COVID-19. "We actually did some extra Zoom lessons each week, that we might not otherwise have done, so it was good in that way."
Dean was full of praise for his teacher Mrs Nicole Dennis saying "she was the best teacher I could have asked for for this subject". Nicole is "over the moon" about Dean's achievement.
"Dean is such a focused and determined young man," Nicole said. "He regularly seeks feedback on his work and talks about how to improve."
Parramatta Marist Principal Mark Pauschmann is particularly proud of Dean's collaborative approach to learning, supporting classmates in their studies.
"Dean is a very conscientious student whose commitment to studies is matched by his commitment to his fellow students," Mark said.
St Columba's Catholic College Springwood student Sarah Sharp has topped the state in Earth and Environmental Science. Sarah was surprised to learn about her outstanding result and plans to study Psychology next year.
"This was made possible by the people around me," Sarah humbly stated. "It has been a tough year, but at home, at school and online, I've been surrounded by the right people."
Reflecting on the COVID-19 experience, Sarah said that her teacher Cathryn Phillips made the experience of learning at home a lot easier.
"Mrs Phillips has so much knowledge and was amazingly supportive," Sarah said. "Working with such a passionate teacher is a privilege."
"It's important to be informed in our changing world. These were life lessons and we'll keep applying them."
Cathryn Phillips, who retires at the end of the school year after a 45-year career in education, said Sarah's achievement completes the beautiful send-off she has received from students.
"Sarah is incredibly talented and very committed to her studies," Cathryn said. "Such a hard worker, and her grasp of the process and writing are superb."
As head of Science at St Columba's Catholic College, Cathryn pushed to introduce the Earth and Environmental Science course as the Blue Mountains is such a significant environmental heritage area. In retirement, she will continue to pursue her passion for the environment through volunteering in bush regeneration.
Principal Paul Ryan is thrilled about Sarah's success in the subject that has become so popular with students at the College surrounded by Blue Mountains National Park.
"This has been such a challenging year for all our students," Paul said. "Sarah has applied herself so strongly and this recognition means a lot to our whole College community."
---
Learn more about Cerdon College Merrylands
Learn more about Parramatta Marist High School
Learn more abut St Columba's Catholic College Springwood